PXS Heartbeat Monitor -
pxsekg
The PXS Heartbeat Monitor, pxsekg, provides a general hot-standby capability for PXS applications.
A typical application is found in phone switches. A primary PXS runs an application collecting Customer Detail Records from the switch. If the application cannot continue collecting for any reason, either because the synchronous connection fails or the hardware or software fails, the secondary (or hot-standby) PXS takes over.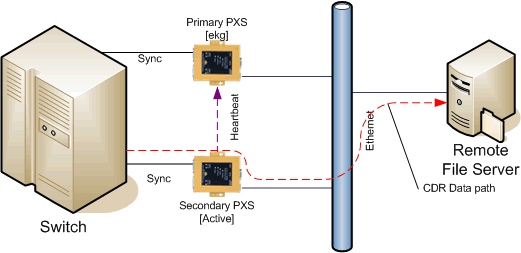 Advanced Relay has built this capability in the PXS: the primary PXS runs the application and generates a "heartbeat" at a predetermined rate (see PXSHEARTBEAT in the configuration). The secondary PXS listens for the heartbeats. If the secondary stops fails to receive a predetermined number of heartbeats (see PXSLIMIT in the configuration), it assumes that the primary has failed and takes over.
Both the primary and the secondary units are configured the same except that:
The IP addresses must be different and statically configured.
The secondary has the monitor option enabled which causes it to run the

pxsekg

monitor program instead of the default application when it boots up.
The primary has the primary option enabled and the secondary has the primary option disabled.
The primary has the IP address of the secondary as the standby server and vice versa.
The primary and secondary have the same default application, the same program environment and the same command line parameters. See Configuring 2 PXSs for details.
The next section gives details on possible failover scenarios.