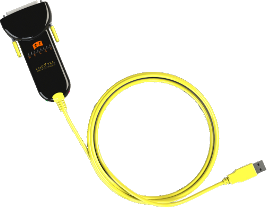 Introduction
The LayGO PXS-USB (PXSu) is a USB-to-Synchronous communication adapter. From a user's point of view, it behaves like any of our other synchronous communication cards. It is 100% compatible with the LayGO API, so applications written to the API will run unmodified using this device. The LayGO PXSu is compatible with the USB 2.0 standard and operates at full speed (12 Mbps).
Hardware
ARM Cortex-M3 based microcontroller (STMicroelectronics STM32F103) with:

512KB Flash memory
64KB SRAM
USB Macrocell

Software selectable interface type:

RS-232
RS-422
RS-449
RS-485
EIA-530
V.35
Firmware
Custom 1 line HDLC controller capable of speeds up to 4 Mbps.
USB to HDLC data transfer and control program.
Device Firmware Update (DFU) allowing field update to the firmware and the netlist for the FPGA.
Software
Windows XP/Vista/2K3/2K8 USB device driver.
Cables
The PXSu looks like a cable with a USB connector on one side and a DB-25 connector in the other. All of the electronics are housed inside the DB-25 connector case.
Most LayGO applications replace a modem. For this reason, the DB-25 connector in the PXS can be ordered with a female DB-25 connector wired as a DCE. In this configuration, a DTE cable can be connected directly to the PXSu without a "null modem" adapter. See Cable - Female for detailed pin assignments.