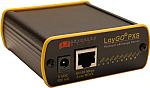 Introduction
This guide explains how to build applications for the LayGO PXS using the LayGO PXS Developer's Kit (PDK).
The LayGO PDK supports application development based on the eCos embedded operating system using the GNU arm-elf toolchain. The toolchain used by the LayGO PDK is available both for Linux and for the Cygwin environment which runs under Windows. However, all development done by Advanced Relay for the PXS is done in a Linux environment and only development under Linux is officially supported by the PDK.
The operating system used for the PDK is based on a CVS snapshot of eCos version 1.4. eCos is distributed under a modified version of the GNU General Public License (GPL). This license requires that the source code for eCos (including any modifications made by Advanced Relay Corporation) be made available to our customers. The source code is available on request. However, the source code for the HDLC driver and the LayGO protocol stack are wholly the creation of Advanced Relay Corporation. Source code for these components is not part of the distribution.